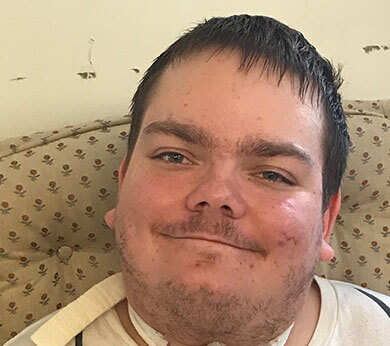 The day I was born, I had several birth defects. One required 17 hours of a surgery that had a 5% rate of survival. These defects such as tracheoesophageal fistula, VATER syndrome, esophageal stricture, and tracheomalacia, were a result of my mother using various drugs before and during her pregnancy with me. Luckily, I survived these unfortunate events in my first days of life. After 3 months in the hospital, I was released to live with my parents in New Britain, Conn.
My parents continued their lifestyle of drinking and using drugs, abandoning me to the care of my 5 year old sister and home nurses. At 18 months, after suffering from abuse and neglect, I was taken to live in a foster home an hour from my hometown. After five years of living with my foster family, they adopted me in July of 2000. Not long after my adoption, I was diagnosed with PTSD and bipolar disorder.
My family and I moved to North Carolina shortly after my adoption. Around age 10, I was diagnosed with severe anxiety and depression in addition to chronic aspiration pneumonia. As a result, I was placed on a feeding tube for a year. Once the tube was removed, I could only eat pureed food for a year.
By age 14, my PTSD began acting up leading to anger issues, outbursts, painful flashbacks, and suicidal thoughts. As a suggestion, I began EMDR therapy which only made matters worse. Over the next 3-4 years, I was in and out of psychiatric hospitals more than 20 times. In 2011, at age 17, I was admitted to Central Regional Hospital in Butner, NC where I stayed 3 years. During those 3 years I experienced various changes to my medication, repetitive therapies, and became isolated.
After I was discharged, I was no longer allowed to live with my family. I moved to an adult foster home in 2014 with a very strict family. I experienced emotional and physical abuse and after a particular incident, I contacted my case worker for assistance. After only a few months of living there, I was placed in a group home in Burlington. After 9 months, I decided to move out and live independently. Currently I live with a roommate in Chapel Hill and recently earned my GED.
In January 2016, I started visiting the UNC STEP Clinic, a facility specializing in mental illness. I was informed about a psychosocial rehabilitation program call Club Nova. After touring the Clubhouse, I became a member in February. Since becoming a member, I am no longer isolated and my self-esteem has significantly increased.
Because of a lot of medical appointments and various surgeries, I cannot visit the clubhouse as much as I would like. When I do visit Club Nova, I am greeted by other members and staff, all who have become a positive support system for me. I am enjoying working in the Thrift Shop, the Admin Unit, and helping prepare breakfast. Here at Club Nova, I am valued for my skills and not defined by my mental illness.
Currently, I am 22 years old and have been put to sleep over 1000 times for various medical procedures. I have been through alot and still have many medical procedures to follow, but I am resilient. I am thankful for the positive support Club Nova provides when I need them the most.